Plus500 is one of the world's most widely used online trading platforms, allowing you to invest in the stock market from the comfort of your own home, without the need for a linked bank account.
In this Plus500 review, you will find all the information you need to evaluate the broker and its online trading platform: how it works, what the costs are, what opinions traders have and much more. Take the time to analyse the platform and consider alternatives if necessary.
[imagecontent]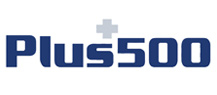 Plus500
Official Website: www.plus500.com
Advantages: High-tech platform, Demo trading account
Regulated by: FCA, CySEC
Minimum deposit: £100 debit, credit card
*72% of retail investor accounts lose money when trading CFDs with this provider. You should consider whether you can afford to take the high risk of losing your money.
How to start trading with Plus500:
Switch on your PC;
You register with the broker;
Make a first deposit;
Start trading with CFDs on stocks.
You can test the platform now through the free Demo and use the iOS and Android apps to trade directly from a smartphone.
What is Plus500?

Plus500 has always stood out from other trading brokers due to its numerous sponsorships in the world of sport and positive user reviews on the web. As Wikipedia recalls, the company was founded in 2008 in Israel and now operates worldwide with offices in the UK, Cyprus, Australia, Singapore and Bulgaria.
Plus500Uk is licensed by the FCA (license FRN 509909) and Plus500CY is licensed by CySec (License No. 250/14) which are responsible for the protection of investors by regularly monitoring brokers and financial intermediaries. Furthermore, the broker has never been placed on the FCA "warning" list. It can therefore legally operate and work in UK.
With Plus500 you can trade CFDs with these instruments:
Cryptocurrencies (Bitcoin, Ethereum, Ripple etc…)
Index
Forex
Raw materials
Stock
Options
Etf
Throughout this comprehensive Plus500 review we look at how one of the best trading platforms on the market works. We will look at the pros and cons of the broker and people's opinions about trading with Plus500.
Is Plus500 reliable?
One of the most frequently asked questions on the web is certainly about the reliability of the broker.
Is Plus500 safe or is there any cause for concern?
In fact, when dealing with the world of investment, it is only fair to ask how reliable or unreliable the company, broker or platform you are investing in is. All the more so when approaching online forex trading, one of the sectors, let's be clear, dominated by scams of all kinds..
We respond immediately by saying that Plus500 is not a scam. The company is the official sponsor of top clubs, such as Atletico Madrid and the Brumbies (Australian Rugby team). Since 1 September 2020 it has also been the main sponsor of Atalanta.
If the sponsorships do not reassure you, the company is listed on BI If the sponsorships do not reassure you, the company is listed on the London Stock Exchange (AIM) under the symbol LON:PLUS and is authorised by the Financial Conduct Authority (FCA) in the UK and CySEC in Cyprus.
Plus500: Platforms and Tools
The Plus500 platform is simple to use. The interface is very intuitive, but perhaps a little basic for the professional trader. However, there is no shortage of tools to customise the graphics and better master the performance of your CFDs.
At the top you have the possibility to select the indicators you want and display them on the various charts at the bottom. For example, if we want to activate the MACD indicator on the Bitcoin chart, we only need to do the following:
Click on Bitcoin in the Crypto list, the chart below will appear: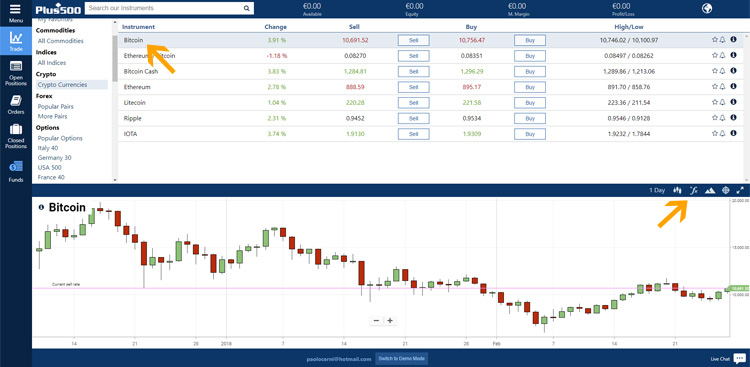 2. In the chart tab click on FX, you will see a drop-down menu;
3. From the drop-down menu click on MACD or any other indicator of your choice;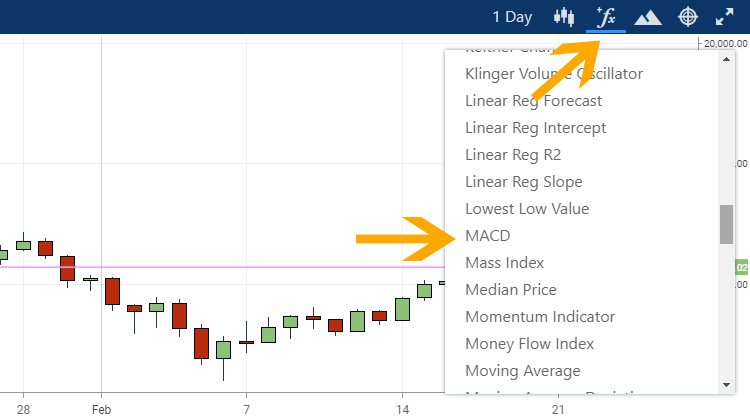 4. And here appear the bottom lines of the MACD indicator.

The same can be done by adding more indicators, such as bollinger bands or moving averages.
How Plus500 Works
The operation of Plus500 is very intuitive and both the web and mobile applications are easy to understand and use. We explain how to start trading on the platform and how to open a free demo account in this guide to Plus500.
Plus500 Registration
You must first register with the platform. By clicking here (Register with Plus500) you will be taken to the registration page. At this stage you only need to:
enter your email;
invent a password;
click on Create Account.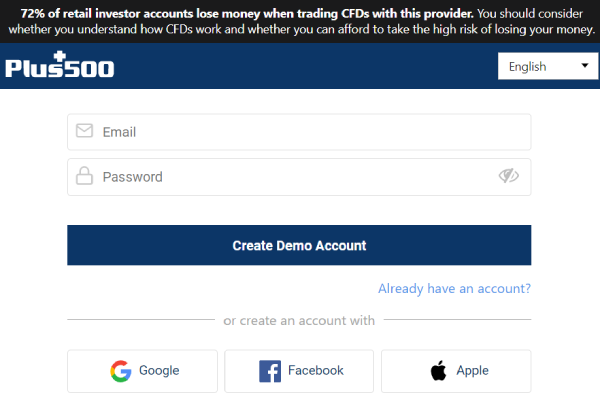 If you already have an account, please login directly from here (go to the website) to the platform and complete the fields to login to Plus500.
Demo platform
At this stage you can also choose whether to trade immediately with the real account (i.e. depositing real money) or whether to operate with the demo platform (Free Demo Account) and then trade with a software simulator of the platform. If you are a beginner it is advisable to test and try the demo account.
Plus500 Minimum Deposit
The minimum deposit at Plus500 for users registering from the United Kingdom is as follows:
Visa/Mastercard credit or debit card: minimum €100;
PayPal or Skrill e-wallet (Skrill available from the second deposit): minimum €100;
Bank transfer: minimum €500;
Alternative method (Sofortuberweisung or MyBank): minimum €100.
Withdrawals at Plus500
Is it possible to withdraw with PayPal?
The platform allows you to withdraw the amounts deposited or earnings earned through the most popular payment systems. From PayPal to Skrill via Neteller.
PostePay and Debit/Credit Cards
At Plus500, you can also credit the payment cards you used during your deposit. If the withdrawal is unsuccessful, you will still find the funds on the platform.
Obviously, the easiest (but not quickest) way to make withdrawals is by your bank transfer.
Plus500 Costs
Plus500 does not charge for membership, deposits or opening/closing trades. Trader tools, such as charts and live quotes, are available free of charge. Plus500 makes money through the spread of buying and selling each asset, with no real commissions. Each spread varies depending on the type of financial product you decide to buy and sell.
Three other items are added to this cost:
Overnight funding, i.e. the cost of keeping a position open after a certain time;:
Stop order, a mark-up on the buying and selling spread in case you want a "safety valve" (close the position at a specified interest rate);
Inactivity fee, $10 per month if you have not logged into Plus500 for at least 90 days.
Plus500 also does not charge for withdrawals, but may charge $10 per withdrawal if you exceed the maximum number of withdrawals per month, which is 5 transactions.
Plus500 Rollover
How much does it cost to keep positions open for more than one day? A multiday is a position open for multiple days after expiry. To see how much the rollover costs per trade at Plus500, see the data sheet: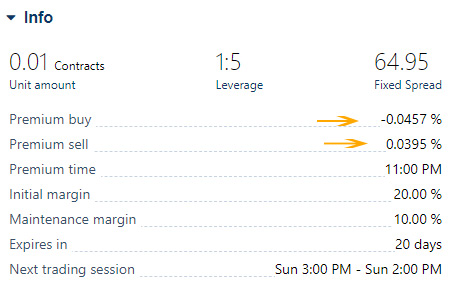 In practice, as you can see from the figure, bitcoin trading sessions at Plus500 (in the case of the example) have a beginning and an end, meaning that the stock is sold and bought by the platform at the completion of these sessions. What you are going to pay in rollover is the difference between the "Premium Buy" and the "Premium Sell".
Plus500 Customer Support
Plus500 broker provides comprehensive 24/7 customer support, awarded 5 stars by 90% of users. You can request support via email, online chat or WhatsApp number, with an average response time of just 30 seconds.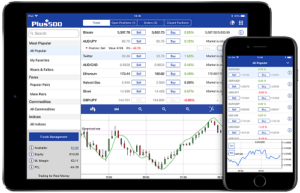 Plus500 Mobile Trading
You can also trade online at Plus500 from tablets and smartphones by downloading the mobile app for iOS (iPhone and iPad), Android and Windows Phone. If you prefer to download the Windows PC software rather than trading online at Plus500, there is also a downloadable version available from the Microsoft store.
Forex and Tax: How to Pay Tax with Plus500
Plus500 is a broker that does not allow you to trade under administration. This means that in order to pay taxes in Uk on the income, or capital gains, you receive from trading, you must complete your own tax return and enter them as "Miscellaneous Financial Income".
It will be enough for you to subtract the total amount from the initial deposit. If you have made a capital gain, you will have to pay tax at 26% on the gain.
In any case, we recommend that you ask your accountant for more information about the taxes you will have to pay for online trading gains.
Plus500 Key Figures
The company is the brainchild of six students from Israel's Technion University: Alon Gonen, Elad Ben-Izhak, Omer Elazari, Shimon Sofer and Shlomi Weizmann, led by former CEO Gal Haber.
Asaf Elimelech
Today the figures at Plus500 are CEO Asaf Elimelech, who succeeded Haber in 2016, and Chairman Penelope Judd.
Closing a Plus500 Account
If you are tired of trading, or the plus500 platform does not suit you, you can always choose to close your trading account.
How to close your Plus500 account
Plus500 Login: Access your account
Make sure you have withdrawn all your funds
At the top left click on Menu
Click on Account > Account verification to access the chat room
Or Click Help > Live Chat
Write to an operator that you want to close your account
Within a short time you will receive an email with the account closure data.
Alternatives to Plus500
At Tradingchooser we report on and categorise everything in the world of online trading. Among the platforms reviewed are the following which you will find in the table. These brokers are a great alternative to Plus500, take a look:
1
Best Broker 2023
0% Commission stocks
Social Trading
Free Demo account

67% of retail investor accounts lose money

9.6

$50 Minimum Deposit
FCA Licence No. 583263

LSE listed (LON: PLUS)
2000+ CFD instruments
Free demo account

72% of retail investor accounts lose money

8.5

£100 Minimum Deposit
FCA Licence No. 509909

Savings and Trading account
Invest in stocks and IPOs
1 million instruments

8.2

No Minimum Deposit
Licence CIF No. 275/15

FCA License
Free Demo Account
High-tech platform

72% of retail investor accounts lose money

7.8

£20 Minimum Deposit
FCA Licence No. 738538

Intuitive platform
Free Demo Account
Regulated by CySEC, FCA, NBRB, ASIC License

73.81% of retail investor accounts lose money

7.5

£20 Minimum Deposit
FCA Licence No. 793714

CySEC Licence
Free Demo Account
Start trading from £1

73% of retail investor accounts lose money

7

£10 Minimum Deposit
CySEC Licence No. 247/14

Web Platform, Mobile App
CySec license
Free Demo account

71% of retail investor accounts lose money

7

£100 Minimum Deposit
Central Bank of Ireland Licence No. C53877
Plus500 or eToro?
Those new to online trading often compare Plus500 to eToro, another of the most popular brokers on the market. Both platforms are secure, fully licensed and require the same minimum initial deposit.
The advantage of eToro is definitely the social trading feature which allows you to copy experienced traders, making buying and selling and trading automatic and guided. This is a great advantage, especially for a beginner, and is not available on the platform we reviewed. For its part, Plus500 offers a free demo account, where you can practice without real money while taking the time to learn how trading works.
Plus500 or AvaTrade?
An alternative to the emerging Plus500 is AvaTrade, a broker that also offers a variety of external trading platforms to choose from. At AvaTrade, trades can be executed through MetaTrader 4 (MT4), AvaOptions and more. In addition it offers desktop tools that allow traders to monitor multiple charts and technical indicators, enhancing the professional trading experience.
Avatrade is not listed on the stock exchange and does not have FCA approval, but it allows users to do social trading like eToro. They also provide webinars and videos for beginners and experienced users.
However, Plus500 offers a greater range of investments, with over 2000 CFD solutions compared to just over 200 at AvaTrade. Plus500 is also cheaper, with an average Euro/Dollar spread of 0.6 (AvaTrade's 1.3).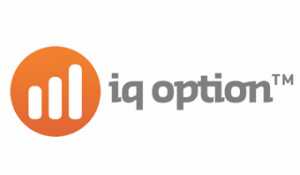 Plus500 or Iq Option?
Plus500 and Iq Option are two reliable brokers to choose from. Plus500 is more focused on CFDs and Iq Option is famous for binary options, which are still available but only for professional accounts.
Both offer a demo account, although IQOption sets the maximum budget at €10,000 (reloadable). Plus500 has a better assortment of assets, but IQ Option offers free videos to learn how to use the platform.
Costs remain lower on average at Plus500, but the minimum deposit at IQ Option is very small ($10).
Plus500 Reviews
CWith this guide concluded, it seems only fair to discuss the opinions we have found around the web regarding the "Plus500 experience".
Opinions Forum
Googling "Plus500 Problems" will bring up a list of websites and forums with mostly negative opinions and comments about the platform. Obviously, if you are unhappy with a broker, you will find a way to review it, but if you are making money, there is no reason to leave a positive review. With this in mind, we have highlighted some of the most interesting Plus500 reviews.
Plus500 Reviews on Trust Pilot
TrustPilot, one of the most influential review sites for online services, has listed a number of positive and negative reviews submitted by users who have tried Plus500.
As you can see, there are users who praise the platform, while others consider the spreads too high. Our advice is to test the platform far and wide. Try out the free demo account before you deposit any money and see if it is the right platform for you.
FAQ – 5 Frequently Asked Questions about Plus500
Is it possible to make a simulation with the demo platform?
Yes. Plus500 has a free demo platform where you can practice online trading without depositing real money.
Do Plus500's earnings have to be declared in the United Kingdom?
Income earned on Plus500 should be included in your tax return (Declaratory Regime) as "Miscellaneous Financial Income".
Can you buy shares with Plus500?
You can buy share CFDs and earn (losses could also occur) from the fluctuations of real shares. You cannot buy real shares or access dividends. However, on the ex-dividend day, Plus500 adjusts your account with an upward adjustment if you are in a buy position and a downward adjustment if you are in a sell position.
Better Plus500 or eToro?
Plus500 has lower spreads and at eToro you can do social trading and copy other successful traders.
Is Plus500 or 24Option better?
At 24Option you can learn how to trade through the ebook and many free resources. Plus500 is one of the world's most established, secure and reliable trading platforms.
Go to the official site: www.plus500.com
*72% of retail investor accounts lose money when trading CFDs with this provider. You should consider whether you can afford to take the high risk of losing your money.