eToro is one of the most popular platform in the world for investing in stocks & cryptos. Its brand reputation comes mainly from social trading, a revolutionary approach to investing. Even a beginner can copy world's top traders with a single click and buy shares at 0 commissions, cryptocurrencies, ETFs and much more.
But is eToro really the best online broker?
[imagecontent]
With eToro you don't just trade CFDs. You can also buy cryptos, ETFs and real shares (we'll explain how). You can even invest in asset portfolios (CopyPortfolios) and let an artificial intelligence manage your investments, such as a robo advisor.
Of course, some people have also expressed negative opinions (more on why below). However, its history, the authorisations it has acquired and the platform that works very well prove its value and reliability. Let's find out everything you need to know in the full eToro review.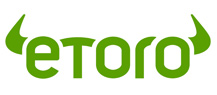 eToro
Official website: www.etoro.com
Bonus: social trading, 0% commissions on stocks, crypto wallet & exchange
Regulated by: FCA, CySEC, ASIC
Minimum deposit: £50 credit, debit card, PayPal
68% of retail investor lose money
What is eToro?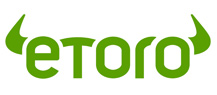 eToro (etoro.com) is an international investment platform that offers multi-asset trading to individuals around the world. The company behind it, eToro Ltd, was founded in January 2007 in Tel Aviv by brothers Yoni and Ronen Assia.
Today, eToro is headquartered in Limassol, Cyprus, but operates in markets all over the world and has over 20 million registered users (verified and non-verified accounts).
It is undoubtedly one of the best known investment companies and is used by home investors to get started with online trading (more on why later).
In the following table you will find the main information about the broker eToro.
| | |
| --- | --- |
| Year of foundation | 2007 |
| Official website | www.etoro.com |
| CEO | Yoni Assia |
| Regulations | CySEC (n. 109/10), FCA (FRN 583263), ASIC (n. 491139) |
| eToro minimum deposit | $50 |
| Demo Trading Account | Yes, free |
| Customer care | email, chat, web app |
| Trustpilot Reviews | 2,5/5 |
| Risk disclosure | 68% of retail investor accounts lose money when trading CFDs with this provider. |
eToro: Pros and Cons
What we Like
0% commission on Real Stocks
Exchange for crypto
Copyportfolio for investors
Online Trading Academy
What we Don't Like
Only US Dollar account
High spread on some assets
Is eToro a Scam?
The first thing many users ask themselves is whether eToro is a scam or not. Negative forum reviews and frequent incidents of financial fraud alarm those who are considering an online platform, even with established brokers.
eToro is regulated by various supervisory authorities, which oversee the operation of all trading platforms. In Europe, eToro is regulated by CySEC, the Cyprus Financial Markets Authority, and operates under the MiFID 2 regulations set by ESMA.
In the UK the FCA authorizes eToro, while in Australia eToro AUS is registered with ASIC.
As of 2021, eToro has also expressed its intention to go public via SPAC, merging with FinTech Acquisition Corp. V (NASDAQ: FTCV).
The broker is a partner of several English football clubs like Crystal Palace, Everton, Leicester City and Southampton, and European teams like Wolfsburg or Monaco.
The website is also one of the clearest and most comprehensive in terms of information, from company policy to key figures, from mission statement to risk warnings. It also has a strong social media presence, all details that a fraudulent or untrustworthy broker would omit to remain anonymous.
How to trade with eToro
With eToro everyone can start trading with simple steps. Here you can find hundreds of assets to invest in, both as CFDs and as underlying assets.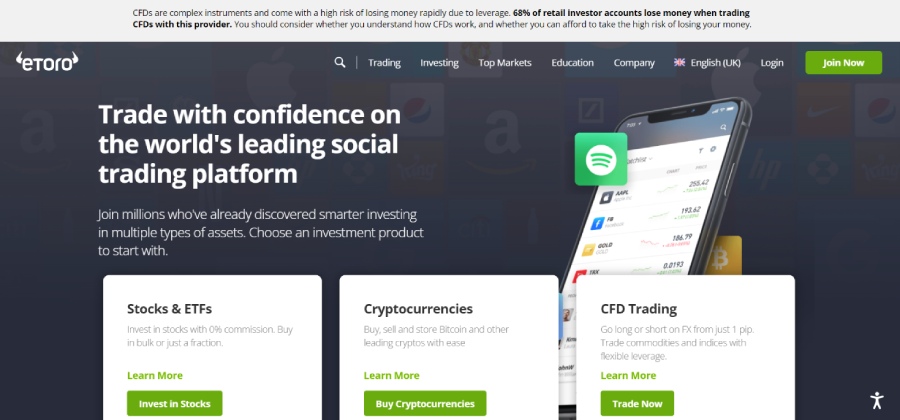 The user can buy or sell stocks, commodities, ETFs and cryptocurrencies, but also indices and currencies. eToro offers traders hundreds of assets to invest in, both as CFDs and as underlying assets.
There is a good choice of both stock and forex markets. Whether you want to buy shares in the short or long term, you can choose to trade with the underlying asset or with CFDs.
In the first case you buy shares at zero commission and also enjoy dividend payments. In the latter case, you can also consider shorting the stock or use higher leverage.
On equities and ETFs you can buy underlying assets, i.e. hold that stock in your own name, while also enjoying dividend payments (clearly without leverage and without being able to buy shorts).
You can also buy cryptocurrencies and hold them in the eToro Wallet, or trade CFDs. The broker has a wide choice of cyptos, from major currencies such as Bitcoin, Ethereum or Ripple to emerging altcoins, making a total of 16 cryptocurrencies.
Social Trading
eToro is the best social trading platform in the world. The broker provides users with a section dedicated to the exchange of information, sharing of posts and news, just like a social network.
It will be like investing in the stock market within a community of traders. This will increase your knowledge, the information you have and help you make better investment choices.
However, the most relevant feature of eToro is the so-called copy trading, i.e. the ability to automatically replicate all the financial operations of an experienced trader (popular investor).

This makes trading on eToro accessible even to beginners, who by copying the market operations of advanced traders can enjoy the same gains (or losses).
You can choose the popular investor to copy from all over the world, filtering by country, number of followers, percentage of profit and degree of risk, adapting it to your trader profile.
CopyPortfolio
eToro has enhanced social trading by activating an investment product called CopyPortfolio, a feature that allows you to buy a bundle of thematic assets in bulk, or invest in the result of several popular investors.

There are two types of eToro CopyPortfolios:
Top Trader CopyPortfolios, a portfolio of traders who are copied;
Market CopyPortfolios, a portfolio of CFDs, commodities, stocks, ETFs and real crypto prepared by eToro experts, popular investors or major global institutions.
The user can search among different types of packages for the most promising and suitable for his strategy. The minimum amount required is $1,000 and there are no commissions.
eToro Trading Platform
In addition to the various assets, the social trading and its success, the straightforwardness and clarity of the platform is also striking about eToro. The broker does not have downloadable desktop software, but has a web app and a downloadable mobile app on iOS and Android.
The clean design and usability are really appealing, although for some it can be limiting not to use the eToro account on other trading platforms (e.g. MetaTrader 4).
There is a lot of functionality, although it is not possible to customise the screen too much. From the homepage (Favorites List) you can place orders in seconds, following the trend and sentiment of other traders.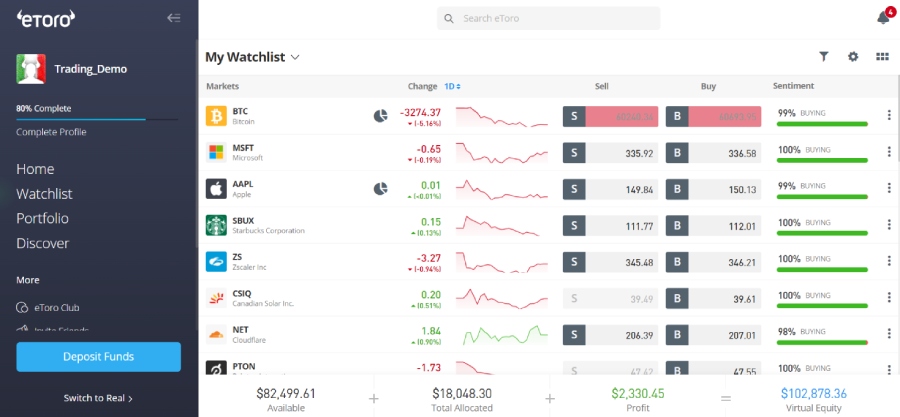 In the Portfolio you access the overview of your investments to monitor or manage them.
In the Search section, the user can position themselves on People and identify the top traders to follow, to automate their activity even if they are beginners. Once identified, simply click on the trader's profile to view details or click on Copy.
Selecting CopyPortfolios, on the other hand, provides access to the purchase of managed portfolios.
How to start investing with eToro
If you would like to take a closer look at eToro, you can create a free account and get inside the trading platform.
1. Open a free account
The procedure does not require any real registration: just access the official eToro website via this link and click on the Join Now button.
Remember that your capital is at risk, so be careful and invest your money carefully.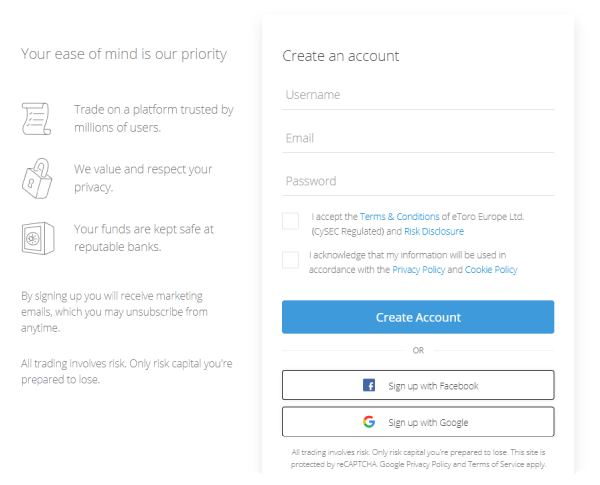 At this point you will be asked to login:
username;
email;
Password of your choice
You can also login to eToro via your Facebook profile or Google account.
2. Switch to free demo trading account
When registering, you can decide whether you want to use the real account or try the platform first with the free demo account. This is highly recommended, especially for beginner traders, as opening a demo account allows you to get familiar with the strategies without losing money.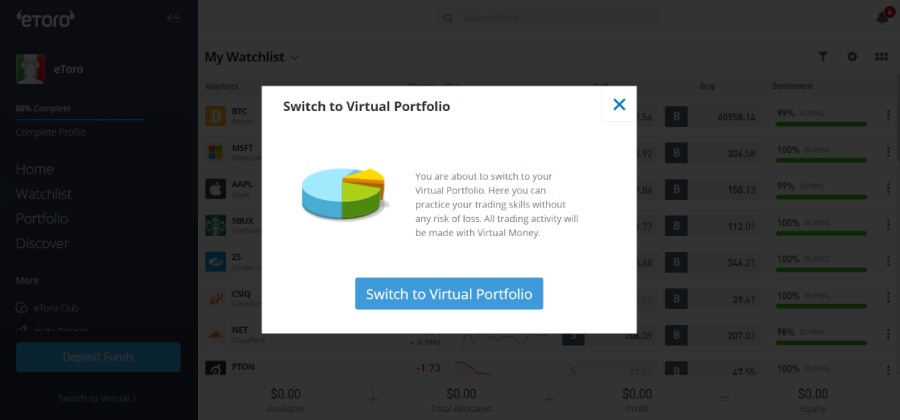 eToro offers a trial account with 100,000 euros and full functionality, which can be recharged on demand if you run out of money. The use of the demo trading account is unlimited, so you can use it as long as you like.
The $100,000 fund will also be automatically replenished once it is depleted.
72% of retail CFDs accounts lose money
How to Buy Stocks with eToro
After logging in to the eToro trading platform, you can choose the shares you like the most from the "Stocks" section, with over 1,000 stocks. Here you can find the most traded European, American and Asian companies.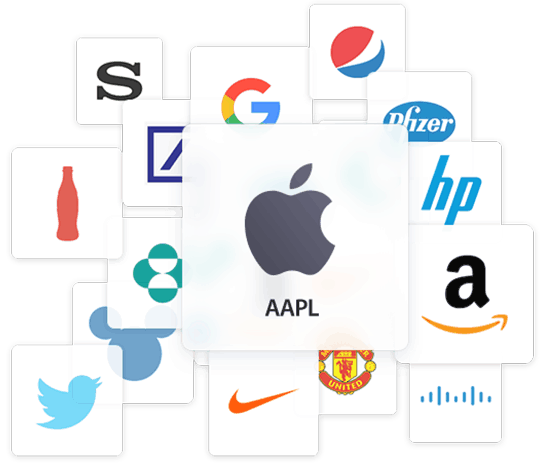 Now we can opt for a double option:
Buy the shares in "Real Stocks", with the actual purchase of the Asset. Simply remove the leverage and select the amount to buy. In this way we become full shareholders of the company and also participate in the eventual distribution of dividends.
Trade CFD contracts. To do this, simply activate the financial leverage (maximum 1:5) and choose between long and short CFDs, speculating on both the rise and fall of the share price.
This dual offering makes eToro perfect for any type of investor. All with no fixed commissions and no management fees.
The same goes for cryptocurrencies, simply uncheck the leverage selection to physically buy the token.
How to Buy Bitcoin and Crytptos with eToro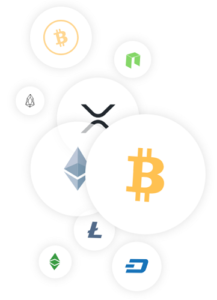 One of the biggest advantages offered by eToro is that it is a stock broker and a cryptocurrency exchange at the same time. The trading platform allows you to
Trade CFD's, speculating on the sudden changes in the most traded cryptocurrencies.
buy and hold real cryptocurrency, for hodl investors looking for a long-term investment.
At eToro you can buy Bitcoin and decide at any time whether to sell it, change your trading strategy to CFDs or move your cryptocurrency to an online wallet.
You have three options with eToro, an advantage that few online trading brokers offer.
You can also buy and sell Ethereum, Dogecoin, Polkadot, Chainlink, Ripple, Litecoin, Dash and many other cryptocurrencies (the list is updated periodically).
The fees vary depending on the cryptocurrency you choose to trade at eToro. Go to the website for more information.
Minimum Deposit on eToro
The minimum deposit required by eToro is $200, while for customers in Australia and the USA it is $50. The capital is used to ensure a minimum liquidity to carry out the operations, and you can also use it in full.
Once registered, to start trading on eToro you need to make the first deposit. To deposit at eToro you only need to:
Login to your account;
Select Deposit Funds;
Enter the amount to be deposited and the currency;
Select your payment method.
eToro accepts credit or debit cards, PayPal, Skrill, bank transfers depending on the country. The transfer is valid in any country: it takes 3 to 5 working days to see the amount credited to your eToro account.
Yes, eToro is of the few trading platforms where you can buy Bitcoin, stocks or ETFs with PayPal.
In order to pay by bank transfer on eToro, you will need to print the details that appear on the screen, after having done the steps listed above. After that, you will need to submit your request to the bank, which will complete a SWIFT document. The document should then be uploaded as a scanned copy (or screenshot if you choose to pay from home banking).
For the first deposit eToro requires a minimum deposit ranging from $50 to $10,000. When registering a corporate account the minimum initial deposit is $10,000. However, if the account has not yet been verified (by sending the documents) eToro sets a maximum deposit of $ 2,250.
All other subsequent deposits must be at least $50, while by wire transfer the minimum amount is $500.
Withdrawals on eToro
To withdraw money from eToro you must select the item Withdraw Funds in the menu, enter the amount to be withdrawn in dollars and fill out an electronic withdrawal form authorizing the operation.
The broker will only allow withdrawals if your account has been verified and for amounts over $50. eToro will pay you more or less immediately depending on the withdrawal method you choose:
Credit/debit card: up to 8 business days;
Bank transfer: up to 8 business days;
Neteller: 1-2 business days;
PayPal: 1-2 working days;
Skrill: 1-2 working days;
WebMoney: 1-2 working days;
China Union Pay: 1-2 working days.
eToro Commissions
On the withdrawal eToro applies a fixed fee of $ 5 plus a spread on exchange rates, since you can only request the amount in dollars. Recently the broker has lowered the dry fee on withdrawals (previously it was $25), making it much more profitable.
eToro also charges commissions on deposits (0.5%), but does not charge anything on account management or trading operations (apart from the spread), which is particularly advantageous for those who buy cryptocurrency, ETFs and real stocks, without leverage and in a long position.
Let's see in detail:
| | |
| --- | --- |
| Assets | Commissions |
| Real Stocks | 0% commissions |
| CFDs (stocks, crypto, ETFs, ..) | 0,09% + overnight (6,4% long, 2,9% short) |
| ETFs | 0,09% no leverage |
| Crypto | 0,75% to 5% variables (BTC 0,75%) |
| Indices | 0,04% to 1,2% variables |
| Commodities | 0,02% to 1,2% variables |
| Forex | 0,01% to 0,5% variables (EUR/USD 0,03%) |
Conversion fees, to be honest, are variable and may seem unclear especially to the untrained eye. In any case, everything is documented on the costs page, which you should read carefully.
The broker applies a Pips50 (0.50%) as a conversion fee when depositing by bank transfer and a variable pip as a conversion fee when depositing or withdrawing by other methods.
Finally, in case of inactivity, eToro charges a $10 fee if the trader's account remains dormant for more than 12 consecutive months.
eToro Customer Support
eToro's customer support is a little more spotty than other brokers. There is no telephone support and the live chat reserved for members is difficult to find according to the opinion of users.
That said, support is present and available in several languages. You can rely on them if you need help with your trading account.
To answer the most frequently asked questions, the site refers to the resources inside, which are very thorough but sometimes not able to clarify every doubt as a human intervention.
However, it is possible to open a ticket by entering your email address and waiting for the operator to reply.
eToro Trading Mobile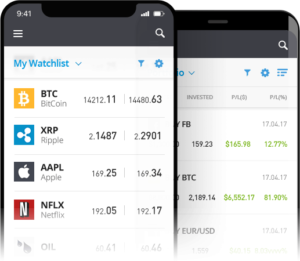 If you want to monitor your investments wherever you are, eToro has also come up with a free and smooth mobile app.
For a simple and user-friendly trading experience away from home, traders can download the eToro app for smartphones and tablets. The app is free and available in Uk for iOS (iPhone and iPad) or Android.
It allows you to set up notifications about your open positions or trading hours, to keep you updated in real time on the latest market updates.
Alternative a eToro
eToro è una delle più valide piattaforme di trading online sia per investitori entry level che esperti, ma non l'unica. Ecco le migliori alternative al broker eToro, con i pro e contro a confronto.
eToro vs Plus500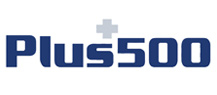 Plus500 is a fierce alternative to eToro due to its low commissions and usability. The world-renowned broker, also born in Israel, is targeting a different segment of investors from eToro, perhaps a little more experienced. Its platform, as native as eToro's, is in fact slightly more technical (but less attractive in design).
Otherwise, both Plus500 and eToro have their own mobile app, allow you to open a free demo account, trade ETFs, stocks, forex and cryptocurrencies.
Plus500 doesn't allow copytrading, but has better customer service than eToro.
eToro vs Moneyfarm

Let's be clear: Moneyfarm and eToro are two different services. The first platform is a robo advisor, an artificial intelligence that builds a portfolio of ETFs based on your needs. It's not an online trading broker, so you won't be able to buy individual stocks, let alone cryptocurrencies.
The comparison between eToro and Moneyfarm is mainly about the issue of automated investing, what the eToro broker calls CopyPortfolio.
Moneyfarm is not an online trading platform, thanks to a robo advisor, identifies the user and creates a portfolio of ETFs balanced according to their degree of risk. With eToro, it is the trader who decides which of the portfolios to copy, as well as being able to choose to buy the Top Trader CopyPortfolios package (generated by the activity of popular investors).
The minimum threshold to invest is almost the same: 5,000 euros on Moneyfarm and 5,000 dollars on eToro. Moneyfarm applies commissions (even low ones), while eToro does not apply commissions (except for spreads). Also, unlike Moneyfarm, it offers more diversified packages, including pure stocks as well as ETFs.
The advantage of Moneyfarm (review), however, is that it provides a dedicated advisor for its investors, which eToro does less on a bespoke basis.
eToro Opinions
On forums such as Yahoo some people are pointing the finger at the broker claiming that eToro is a scam. We have already shown that the broker is regulated by several supervisory authorities, has been active since 2007 and has a very large community of subscribers. eToro has excellent positive reviews, pays its traders regularly and has a precise headquarters and working group. It's all out in the open, and there are no indications that it's a scam broker.
However, to tell the truth, the opinions on eToro that can be found online are not exactly flattering. Many complain about high commissions, especially on withdrawals and commission rates. Many, however, praise the simplicity of the platform and the copy-trading, which is easy to use and potentially profitable.
Despite a less than impeccable customer service and some hefty commissions, eToro is one of the best brokers around. Copy-trading, BTC and crypto wallet and exchange, education, demo account, buying stocks, ETFs and CopyPortfolio: there is really everything you can expect from a broker (and more), perfect for beginners and also suitable for experienced investors (although some would prefer a more technical platform to the clean design). Signing up for free and testing the operation is definitely worth it, it's safe and can be the first step into the world of forex and trading.
eToro of the best trading platform to start investing in stocks, cryptocurrencies and other assets. You should try copy trading with a free demo account. One of the broker you can trust.
eToro is a multi-asset platform that offers both investment in shares and cryptoassets as well as CFD trading.
Please note that CFDs are complex instruments and have a high risk of losing money quickly due to leverage. 75% of retail investor accounts lose money when trading CFDs with this provider. You should consider whether you understand how CFDs work and whether you can afford to take the high risk of losing your money.
Past performance is not an indication of future results.
Cryptoassets are volatile instruments that can fluctuate widely over a very short period of time and are therefore not suitable for all investors. Apart from CFDs, cryptoasset trading is unregulated and therefore not overseen by any EU regulatory framework.
FAQs about eToro
eToro: is it a scam broker?
eToro pursues a policy of transparency in terms of company information and conditions. Although on some forums many opinions claim that eToro is a scam, the company is regulated by FCA and has always demonstrated impeccable conduct. It is important to distinguish a scam broker from a broker with some flaws (e.g. high commissions).
Can I make money with eToro?
You can trade stocks, cryptos and a variety of financial instruments, copy successful traders and profit from their successful moves, or invest in CopyPortfolios to buy packages of shares and ETFs. However, remember that online trading also involves many risks of losing your capital.
Does eToro pays stocks dividends?
Yes, on stocks, ETFs and indices eToro pays (or debits) dividends on the ex-dividend day. An investor in a buy position will receive 70% of the gross dividend for US-listed shares and 85% for other shares. If the investor is in a sell position, he will lose 100% of the gross coupon.