Compare demo trading platforms. Find out which are the best test accounts to start investing online safely, for free and without registration. On demo platforms with no initial deposit: you'll use the virtual money in your test account. You also have the peace of mind that you are trading with regulated brokers.
Free demo trading platforms
1
Best Broker 2023
0% Commission stocks
Social Trading
Free Demo account

67% of retail investor accounts lose money

[imagecontent]

9.6

$50 Minimum Deposit
FCA Licence No. 583263

LSE listed (LON: PLUS)
2000+ CFD instruments
Free demo account

72% of retail investor accounts lose money

8.5

£100 Minimum Deposit
FCA Licence No. 509909

Savings and Trading account
Invest in stocks and IPOs
1 million instruments

8.2

No Minimum Deposit
Licence CIF No. 275/15

FCA License
Free Demo Account
High-tech platform

72% of retail investor accounts lose money

7.8

£20 Minimum Deposit
FCA Licence No. 738538

Intuitive platform
Free Demo Account
Regulated by CySEC, FCA, NBRB, ASIC License

73.81% of retail investor accounts lose money

7.5

£20 Minimum Deposit
FCA Licence No. 793714

CySEC Licence
Free Demo Account
Start trading from £1

73% of retail investor accounts lose money

7

£10 Minimum Deposit
CySEC Licence No. 247/14

Web Platform, Mobile App
CySec license
Free Demo account

71% of retail investor accounts lose money

7

£100 Minimum Deposit
Central Bank of Ireland Licence No. C53877
Best demo trading platforms to invest on forex and stock exchange
If you want to start trading online, you need a demo trading platform. The reason is simple: investing in the stock market from home is easy, but doing it well is not. If you are a beginner, you should start gradually. Many people manage to make fortunes, but many more lose their money, often due to inexperience.
The solution is not to give up on online trading, but to learn it by starting gradually. This is where demo trading platforms come in, as they allow you to start from scratch without losing any capital.
How? By giving it a try. While using an online demo trading account you will feel as if you are trading on the stock market or forex, but without real money. In practice, you can actually play the stock market without the risk of losing anything.
Online demo platforms: Brokers or Banks?
The demo platforms we are going to analyse are operated by so-called online brokers, financial investment companies that act as intermediaries between investors and the market. Only the best brokers in Uk offer you a demo account with virtual money: investment banks, such as Fineco or UniCredit, do not have this feature on their platforms.
We will also find out which of these is the best forex demo account, to do simulated trading on currencies (euro, dollar, pound) or on the main cryptocurrencies (Bitcoin, Ethereum, Ripple, Dash, Litecoin and other alternatives).
Online trading demo: what is simulation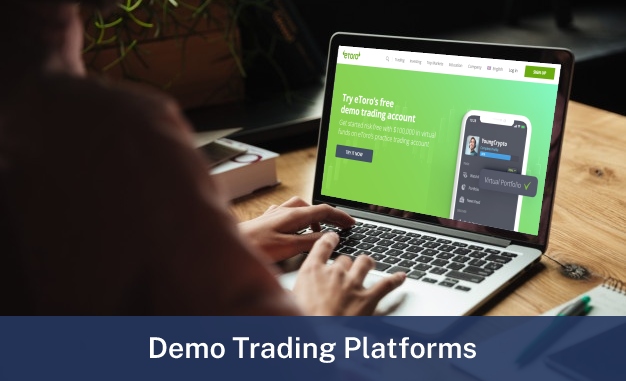 Before we learn about the best online demo platforms, let's see what it means to do a trading simulation.
First of all, an online demo account is a virtual account that you open on a trading platform to test the program or take your first steps as a beginner. When you trade on a demo platform you are investing as if you were in the real market (stock or forex). In fact, the virtual gains and losses you generate depend exactly on the performance of the stock market.
The difference, however, is that the demo trading platform provides you with virtual money. In other words, you will be running a perfect simulation with no risk. You can neither win nor lose on a trading demo, and this will keep you safe for as long as you learn (remember that good investing requires training and experience).
Demo trading account: free without registration
Demo trading without deposit
Demo trading platforms are completely free and do not require an initial deposit. You can do as many simulations as you like, and if you realise that online trading is not for you, you can quit without having spent a penny.
In addition, the best online brokers allow you to open a demo trading account without registration. You can test their platform and if you are not convinced by the functionality or the layout, you can leave it whenever you want.
Before you switch from a real account to a virtual account you will complete the registration process by verifying your trading account.
But now let's see which are the best demo trading platforms on the market to start investing safely at home.
eToro Demo Trading Account
eToro is the undisputed leading broker in social trading. The platform is extremely intuitive, with a simple and attractive layout but at the same time comprehensive and suitable for various types of traders (beginners or experts).
To all new members, eToro provides a demo platform for an unlimited period (you will retain access for years to come). The eToro demo trading account can be opened for free, with no deposit and no real registration:
Click here to create a test account;
Go to register now;
Enter your name, email and password. You can also log in with a Google or Facebook account.
Once inside (it takes less than 5 minutes) the eToro broker offers you a virtual account with $100,000. You can use this fund to the last penny and ask to top it up once you have used it up.
Use the eToro demo account to invest in stocks, indices, ETFs or commodities without risk. You can also trade forex by trading currency pairs, or invest in Bitcoin and other cryptocurrencies.
Use the eToro demo trading platform also to test copy trading, the feature that allows you to automatically replicate the investments of one or more professional traders. You choose who to copy and how much money to invest.
If you prefer to delegate an amount of money to eToro to invest, take a look at the Copyportfolios.
67% of retail investor accounts lose money
Plus500 Demo Account
Plus500 is a well-established investment company listed on the London Stock Exchange. It is one of the most established regulated brokers for CFD investing, offering a wide range of stocks, indices, cryptocurrencies, commodities, currencies and more. Spreads and commissions are reasonable and the platform is extremely good (but you decide that for yourself when you try the demo).
At Plus500, you can open a demo trading account for free and without completing the registration process. Follow these steps and start testing immediately, without even depositing any money:
Click and go to the login page;
Select Free demo trial;
Enter your email address and password (or log in directly with a Google or Facebook account).
You can now use the Plus500 demo trading platform with $40,000 virtual.
Familiarise yourself with charts and instruments, try setting stop losses and take profits, simulate trading any financial product. Even test the demo platform on the go with the plus500 mobile app.
Freedom24 demo trading platform
Next up is a demo trading account that you might want to consider if you are interested in investing in real stocks, ETFs and even the most promising IPOs (initial public offerings). It is called Freedom24 and it is an investment platform owned by Freedom Finance Europe Ltd. Basically, it offers a really interesting investment experience because it allows you to:
buying and selling shares;
invest in ETFs and other stock exchange assets;
set aside a portion of capital on deposit;
participate in IPOs by investing in promising new companies before others.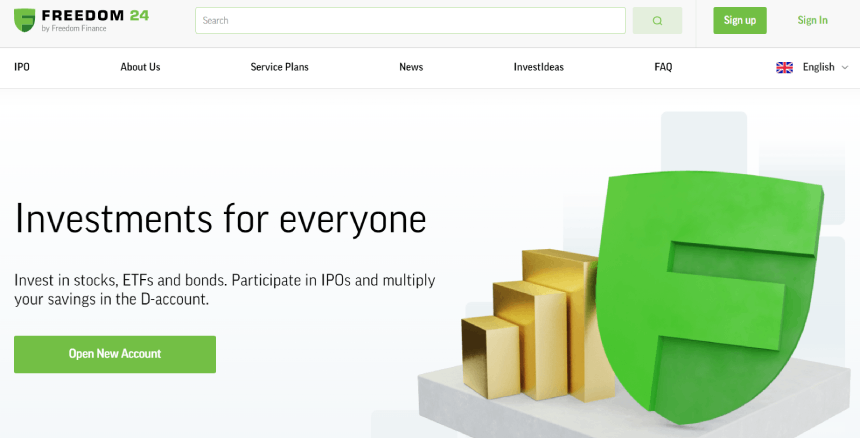 In order to get off to a gradual start, Freedom24 offers you a demo trading account for an unlimited time, but once this is finished, the budget cannot be topped up.
Also at Freedom24 you can create a demo trading account without a deposit, but you will have to make an initial registration:
Click here to go to the site;
enter your name, surname and email address;
verify your mobile phone number and follow the procedure to upload your documents.
Please note that you can start testing the Freedom24 demo trading platform after the first two steps, without having to provide your personal documents.
Take your time to test the Freedom24 demo trading platform, alternating between investment simulation and training. After that, you can deposit as much as you want: Freedom Finance does not apply a minimum deposit threshold.
AvaTrade Demo Trading Platform
The list of the best demo platforms continues with AvaTrade, a multi-regulated Irish broker that perhaps more than any other focuses on trader education. That's why you can open a free trial account at AvaTrade and learn trading by doing your own demo account simulations.
Click and go to the login page;
enter your name, surname, email and mobile phone number;
Confirm the account opening (you can also use your Facebook or Google profiles).
The AvaTrade demo trading platform does not require registration or an initial deposit. It is also completely free and provides you with €100,000 of virtual funds.
Test the broker for as long as you need to: trade CFDs on stocks, indices, cryptocurrencies and the forex market.
Compare AvaTrade's copy trading to eToro's and explore all the other hidden features. The AvaTrade demo account, however, is not unlimited; according to support, it disappears after 21 days of account opening.
Iq Option demo platform
Iq Option is one of the brokers who made history with binary options. Today in Europe it is no longer possible to invest with these financial instruments (they have been banned by ESMA), but Iq Option has managed to reinvent its online platform by adapting it to the stock and forex market.
It has also found a regulated solution very similar to binary options. Therefore, it enters the ranking of the best trading demos because it offers a CFD platform, forex and a similar options trading demo.
Opening a demo account on the IQ Option platform is free, it does not require a deposit or registration. The procedure takes less than 5 minutes:
Click here to create your account;
Enter your first name, last name, email and password in the fields;
Click on the "Start trading on the practice account" button.
Try trading on the best alternative to binary options offered by Iq Option. You have $10,000 of virtual money to do any simulation without risk, reloadable for an unlimited period.
Test the online platform also to invest in stocks, indices, ETFs but especially to trade forex and trade Bitcoin or cryptocurrencies. Iq Option has all the credentials to give you a user-friendly but highly technical experience at the same time, both on the web and via mobile app.
Trade.com demo trading platform
Trade.com offers a trading experience with a wide range of tradable assets (stocks, ETFs, forex, indices, commodities, bonds) and competitive costs. If you want to put the broker to the test, launch the Trade.com demo platform for free with no initial deposit.
You can open the virtual account already equipped with € 10,000, but with Trade.com you will have to register:
Click and go to the Trade.com website;
enter your email and password;
start the registration process by clicking proceed (you will open the demo first anyway);
enter your personal details, the required financial information and answer a few questions about your trading experience;
click "No thanks, I'll deposit later" on the final screen.
Once you have registered, you will be faced with the real account. To simulate trading, select CFD Real in the top right corner and tick CFD – Demo – EUR.
Now you can take a look at the more than 2,100 assets on the demo platform, customise the main layout (see below) by adding more charts, insert more indicators and much more. Trade.com focuses on ease of use, but can also be adapted to the needs of more experienced traders.
Best stock trading demo account
Investing in shares is one of the main reasons people start trading online. Buying and selling shares from home has considerable advantages: first of all, it is instant, you can do it yourself and it requires lower commissions than traditional banks.
If you want to invest in the stock market yourself, however, you need to know how. Don't improvise as a trader, but take the time to simulate on demo platforms.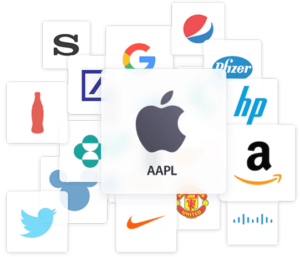 The best demo trading account for stocks is undoubtedly eToro. Why? eToro is the only broker market maker that offers you the opportunity to choose between investing in CFDs or directly in stocks. This way you can buy interesting stocks (Amazon, Apple, Netflix shares) and hold them for a medium to long period.
In addition, it is one of the demo platforms with the widest selection of stocks: European stock exchanges, America and Asia. You can select stocks by country of origin or by sector, drawing from a variety of instruments around the world.
Best Forex demo platform
Do you want to start understanding something more about forex, currency trading? Trading on the currency market is not the same as buying and selling shares: the transactions are almost all intraday, often with leverage, and the variations to be taken to generate profit must be grasped with analysis and intuition.
The forex, therefore, has a higher degree of difficulty and for this you need a broker that offers you a more specific trading platform, and especially a demo to start. The best forex accounts offer:
competitive spreads on the most traded currency pairs (EUR/USD, USD/GBP etc.);
serious charts and tools for technical analysis;
targeted training on forex trading;
a test account to trade on the currency market without risk.
In light of this, the best forex demo platform is Iq Option. You can trade currencies with maximum leverage (up to 1:30) and competitive spreads, without even paying commissions for holding open positions overnight.
You can also take advantage of Iq Option's video training for the forex market and take advantage of the technical accuracy of charts and indicators, which is essential for setting up a successful technical analysis and forex strategy.
FinecoBank demo trading account?
Many people on the net are looking for information about the demo trading account offered by Fineco, one of the leading online investment banks. Unfortunately, however, online demo trading at Fineco is not available.
This applies to almost all other bank trading platforms, such as HSBC or Barclays, which are solid institutions but are more expensive and above all lack a demo account.
In fact, banks are aimed at a different clientele than online brokers, which allow anyone to start investing in the stock market with little money. If you are a beginner looking for the basics of online trading, open a demo account on an authorised platform, gain experience and then decide. You can switch to bank trading at any time.
How to open a demo account
As you have read in the previous paragraphs, opening a demo account is a very simple and fairly standard procedure whatever broker you decide to try.
First you will need to decide on which platform to simulate online trading: eToro and Plus500 are the most comprehensive, Iq Option is also recommended if you want to trade forex.
At this point you only need to enter a few details to create a test account: we are talking about demo trading accounts without registration because the more detailed information will only be requested if you switch to the real account.
Once you have opened your profile, you can start testing your account with the virtual money provided by the demo trading platform. No costs, no strings attached.
Demo platforms and online trading courses
Choosing the best demo trading platforms is not the only thing that matters. While you are familiarizing yourself with the demo account, you also need to acquire the basic knowledge that will allow you to become a real investor.
You don't become a trader just by learning how a trading platform works, but also by knowing the ins and outs of finance, the stock market and the forex market. This is why it is a good idea to take an online trading course, combining demo account simulations with a solid theoretical foundation.
Most online courses for beginners and experienced traders charge a fee, but some brokers offer a lot of free material, such as videos, pdf ebooks or live webinars.
You can find some ideas in our guide to the best online trading courses for beginners. If you prefer to learn by reading, check out our collection of trading books to add to your library.
Best demo trading platforms – Frequently Asked Questions
How does a demo account work?
A demo trading account is a trial account that allows you to test the investment platform with virtual money and without completing a real registration. This way you can start trading safely. Find all the details and a list of the best demo trading platforms in this guide.
What are demo trading platforms?
Only a few brokers offer you a test trading account upon registration, banks like Fineco, Unicredit or Sella do not have this kind of service. Here you will find a list of the best online trading platforms with the most advantageous demo account.
Where can I find a forex demo account with no expiry date?
Many of the brokers in this guide also offer an unlimited demo account for forex. However, one platform in particular has proven to be particularly interesting for currency trading: find out more.