Degiro Review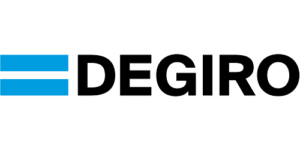 Degiro is an online trading broker that is attracting the attention of many savers who are serious about investing in shares. It is owned by a Dutch company, which has made a name for itself by winning more than 65 awards in Europe.
A first point to note is that Degiro does not belong to the category of CFD brokers who trade leveraged derivatives (such as Plus500 or Markets.com). In this case we are talking about an ECN broker that puts the client directly in touch with the market and allows him to buy real underlying assets.
[imagecontent]
This, however, involves commissions charged to the investor that the trader does not pay with other market maker brokers. What are the costs at Degiro?
Another very important aspect: Degiro does not allow you to do forex trading, i.e. to trade on the currency market. So if you are looking for a forex broker, Degiro is not the platform for you.
Is it worth trading at Degiro? What are the opinions of users who are using it? Let's find out in this Degiro review.
What is Degiro
Degiro is a Dutch broker founded by former employees of Binck Bank. The company, DeGiro B.V., is headquartered in Amsterdam and has been operating in 18 countries in Europe since 2013, serving over half a million customers.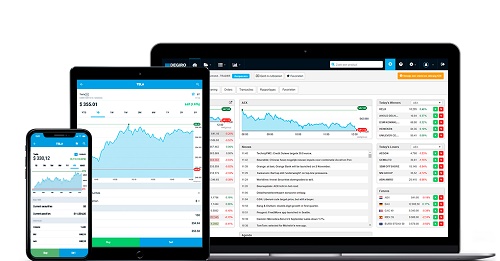 Degiro provides a trading platform on desktop and mobile devices (great app for Android and iOS) on which to trade various financial products:
shares of Europe, America and Asia;
bonds;
investment funds;
ETFs;
futures;
certificates;
options (for professional traders).
On Degiro, therefore, you do not find speculative instruments such as cryptocurrencies or commodities (although there are several ETFs on metals and other commodities), but rather a set of assets more for long-term investment.
All trading on Degiro takes place directly on the market. The broker simply executes the trading orders, without acting as an intermediary between the client and the underlying assets.
Degiro: FCA opinion
As an emerging broker in Uk, many people wonder whether Degiro is trustworthy and what FCA's opinion on it is.
First of all, for investment firms without a branch, FCA only validates the authorisations that companies receive in another European state. In this particular case, Degiro operates under the supervision of the Dutch Financial Markets Authority (AFM) and the Dutch Central Bank (DNB). As such, the broker is registered on the FCA list as shown below.
According to FCA, therefore, Degiro is a safe broker and regularly authorised to offer its online trading services to Italian savers.
Degiro Login
Registration with Degiro is free and takes about ten minutes. To get started, simply go to degiro.co.uk and click on Open a free account.
Log in for the first time by entering an email address, username and password of your choice in the form that appears.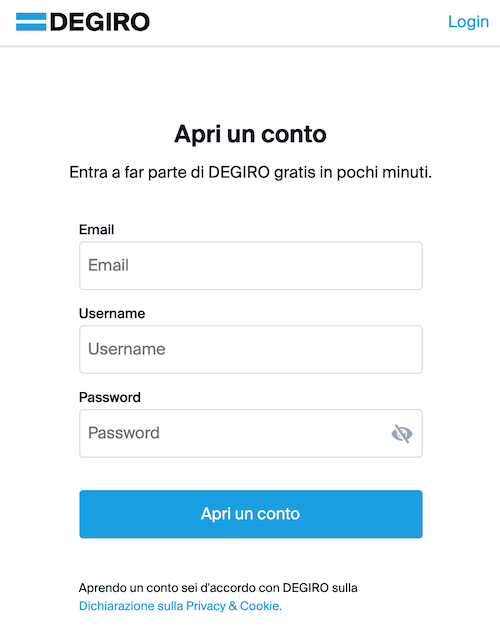 Once inside, Degiro will immediately ask you for some personal information to verify your account. You will need to provide the broker with a valid ID, social security number and other personal details for authentication.
Degiro will also quickly have you take an investment eligibility test. Based on your answers, the broker will allow you to trade with the instruments that suit you best.
Finally, you will need to make an initial deposit by selecting the account to be linked to Degiro. Once you have selected the amount and the method (bank transfer or Sofort) the broker will check all the information you have submitted and within a few days will validate your account.
You will receive a validation email and you will be able to proceed with your first login to start trading with Degiro.
Trading on Degiro: standard or custody account?
During your first login to Degiro you will also have to decide whether to open a Standard or Custody account. The basic difference is that on the Custody account the securities traded on Degiro are not lent to third parties and are held separately. In reality, however, it is important to decide which of the two solutions to adopt for at least three reasons:
the Standard account allows you to trade short, while the Custody does not;
with the Standard account you can trade derivatives;
the Standard account offers real time prices for free.
Does Degiro have a demo account?
No. Degiro does not offer the possibility to practice with a virtual trading account, which is typically offered by the best market maker trading platforms.
If you open an account with Degiro, you must first make an initial deposit, even a small one (as we will see in a moment). This is because whoever trades with a broker like Degiro consciously chooses to use a pure intermediary, closer to a banking trading platform (see Fineco, Binck Bank and the like).
However, Degiro has recently opened a section of its website dedicated to the training of traders, which at the moment counts 10 lessons and some tutorials to operate on the platform.
Minimum Deposit at Degiro
The minimum deposit at Degiro starts at 0.01 euros. In fact, there is no real threshold as with CFD brokers, neither for the first deposit nor for subsequent deposits. You can make a deposit at Degiro via:
bank transfer;
Sofort electronic transfer.
These are the only two solutions. No credit or debit cards are accepted.
Degiro is not a bank: it therefore does not keep its users' money deposited and not invested in some kind of account, but automatically reinvests it in the European Money Market Fund (EUR CASH FUND FUNDSHARE). In the current state of the economy this fund has a negative interest rate, but Degiro covers the losses of its investors up to EUR 2,500 of money deposited in the fund.
Degiro: Free ETF trading
One of the most interesting instruments offered by Degiro are ETFs, which replicate the performance of a particular underlying stock exchange index. The assortment of exchange traded funds on the Degiro platform is truly amazing: you can invest in all the trackers of the major issuing companies (Amundi, Vanguard, Fidelity, Invesco, iShares, Lyxor, JPMorgan, etc.) and the major world markets.
Degiro charges a commission of €2.00 + 0.03% on ETFs, but zero commission on selected ETFs. Here you will find a list of free ETFs on Degiro: there are many ETFs, most of which are listed on the Amsterdam, Paris and Frankfurt stock exchanges.
For the ETFs on the list to be free of charge, you need to invest at least EUR 1,000 (or dollars) in that instrument.
Degiro Trading Costs and Commissions
Costs are a key issue for Degiro. The company claims to have succeeded in bridging the gap between commissions for professional and retail clients (the latter being higher on average). On the other hand, there are costs involved in trading that other, more famous brokers charge zero.
Degiro applies variable buying and selling commissions depending on the instrument traded. The table shows the main cost items for an Italian investor.
| | | |
| --- | --- | --- |
| Instruments | Costs and Commissions | Maximum cost |
| Shares Italian Stock Exchange | 0.50€ + 0.05% | 4.99€ |
| United States stocks | 0.50€ + 0.004$ per share | – |
| Actions Austria, Belgium, Denmark, Finland, France, Ireland, Netherlands, Norway, Portugal, Spain, Sweden, Switzerland, United Kingdom | 4.00€ + 0.05% | 60 € |
| Shares Germany | 7.50€ + 0.09% | – |
| ETF | 2.00€ + 0.03% | – |
| Fondi | 7.50€ + 0.10% | 0.20% |
| Bonds Netherlands, Belgium, Portugal, France | 2€ + 0.06% | – |
Another fee to consider when trading with Degiro is the cost of connecting to international stock exchanges. The stock exchanges of Milan, Amsterdam, Lisbon, Paris and Brussels are free of charge, while the real-time quotes of other countries are charged to the investor.
Degiro trading: Connection costs
The expected amount is €2.50 per year per stock exchange, up to a maximum of 0.25% of the maximum total value of the account (gross per year). This means that if you have €1,000 in your Degiro account and you trade on three different world stock exchanges, you will pay a maximum of €2.50 (0.25% of €1,000). The commission does not apply on the national stock exchange.
It is important to note that Degiro only charges connection fees to traders who invest on those exchanges. If, for example, you choose not to trade on the Oslo stock exchange, you do not have to pay €2.50 per month.
Otherwise, you buy and sell on Degiro at market spreads, you pay no overnight or rollover fees and you withdraw or deposit at no extra cost.
Even the redemption of coupons (for bonds) and dividends (for shares) that Degiro recognises where applicable are free of charge. In addition, Degiro has no inactivity fees, leaving you free to trade as and when you wish.
Degiro Trading: Opinions
The important growth in Degiro's notoriety is linked to two aspects. The first is its nature as an ECN broker: at Degiro you do not trade derivatives with a market maker, according to the conditions imposed by the bank, but you trade directly with the underlying assets.
This is why many perceive Degiro as a more reliable broker than the others, a pure broker that has no conflict of interest with your investments.
The second aspect that people like about Degiro is its costs. Trading directly on the markets involves commissions that market makers do not usually impose on CFDs. However, Degiro is one of the ECN brokers with the lowest fees on the market, as the comparison in the table below (commissions on shares) shows.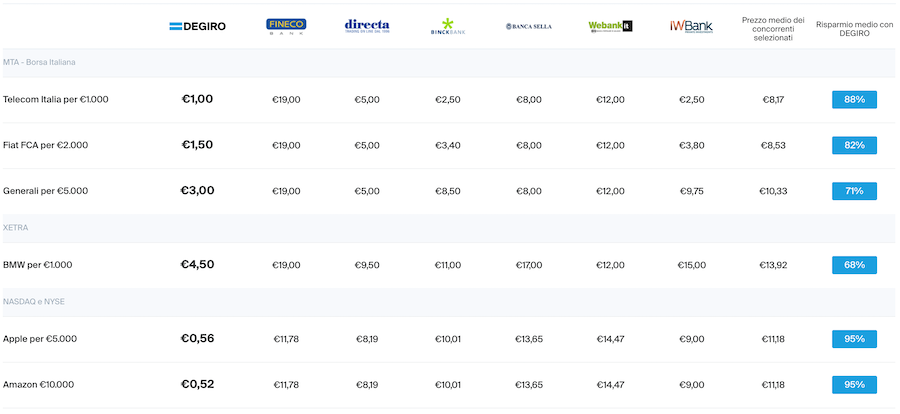 The opinions on Degiro that can be found online are all quite positive. Those who have written reviews (e.g. on Trustpilot) praise the favourable commissions and the trading of underlying assets (shares, bonds or ETFs).
Many on the forums also praise the support service, the easy payment of trading taxes and the functionality of the platform, which is also efficient via the mobile app. On the other hand, those who find a negative note highlight the scarcity of dollar bonds, the absence of cryptocurrencies and the impossibility of trading on the forex market.
Degiro Trading Review – Frequently Asked Questions
Does Degiro act as a tax withholding agent?
Yes. Degiro acts as a tax substitute on investment returns. It also works with a firm of accountants in Uk to provide each customer with a pre-filled form to be submitted to a CAF or their accountant for tax declaration and tax calculation purposes. The costs of this service are borne by Degiro.
Does Degiro offer free ETF trading?
On Degiro you can invest in certain ETFs without commissions. You will find a list of free ETFs on the Degiro platform within the article.
Can I trade Bitcoin on Degiro?
No, Degiro does not offer trading on Bitcoin or any other cryptocurrency.