Is it possible to day trade automatically and let the platform do the work? The answer is yes: today you can invest in the stock market without trading yourself.
Of course, you still have to make the most important decisions and monitor your investment over time, but there are systems to help you trade the markets automatically, even if you are a beginner or don't have enough time to look after your savings.
[imagecontent]
Want to try a free automated trading demo now? eToro allows you to buy and sell stocks, cryptocurrencies, ETFs and many other assets by letting a real expert (chosen by you) do the work. If you would like to learn more about how autotrading works and what it can do for you, please read this guide.
What is automated trading
Automated trading is a form of day trading that uses artificial intelligence (algorithms, numbers, inputs) to open and close positions on the market on behalf of a trader.
This form of robotized investment originated in 2005. Back then it was called mirror trading, or auto trading, today it is known as algorithmic trading or copy trading.
How auto trading works
It works in the same way as online trading, but without the trader doing the buying and selling. The investor can rely on the machine's settings or assign custom parameters and let the instrument invest and disinvest for him automatically.
An autotrading platform can operate in several ways:
following algorithms
copying other human investors;
identifying investment portfolios for you to invest in;
receiving trading signals and moving accordingly.
In any case, however, it is still based on mathematical formulas or impulses provided by other human beings. It is not something perfect and always valid, and this can be misleading especially for those who do not have adequate financial education.
Does automated trading work?
It is important to emphasise at the outset that automated trading only works as well as market conditions allow. In other words, it is not true that automated trading is synonymous with earning money all the time.
On the Internet, you often run the risk of running into real scams that promise easy money simply by letting a bot or an algorithm operate (these are very common, especially in automated cryptocurrency trading).
The automated investment platforms that you will find in this guide are regulated and work, but they still provide good returns and are especially interesting for beginners. However, they will never give you the mathematical certainty that you will make money by trading on the stock exchange, time and time again.
Automated trading eToro
eToro is the regulated broker of choice when it comes to automated trading. The CySEC-regulated platform with millions of users worldwide is designed as a social network capable of connecting all investors, facilitating the exchange of information but not only.
Thanks to the broker eToro, automatic trading has become copy trading: the platform has patented an autotrading system that allows any investor (beginner or not) to copy the work of other more experienced traders, automatically replicating their operations.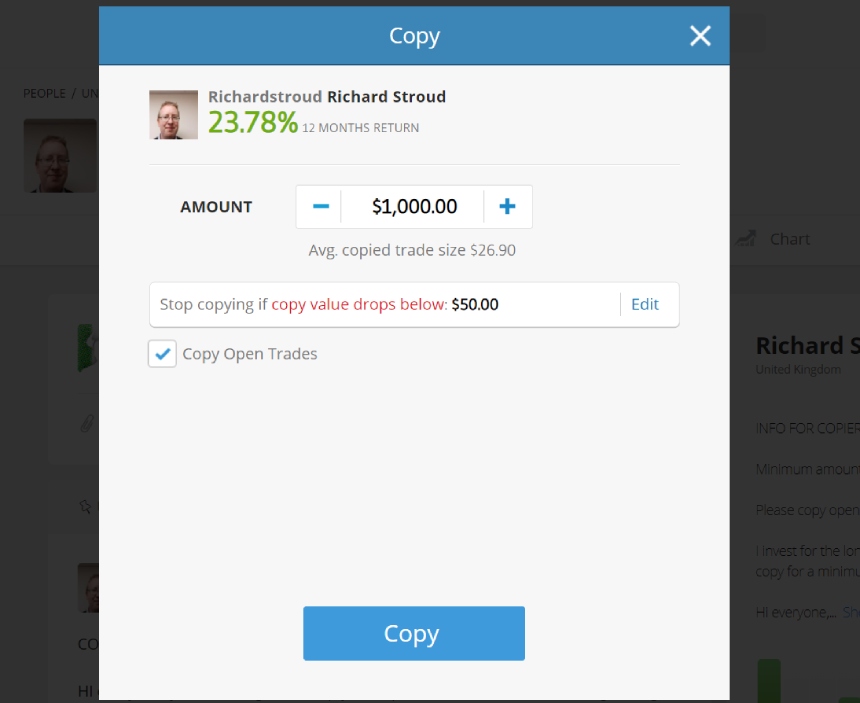 You can try it both in demo and real trading account, with interesting results (more than 73% of copy trading positions are positive) and simple and customizable mechanism. Let's take a closer look at how eToro's auto trading works and what options are available to you.
Demo Auto Trading
You can try out auto trading at eToro by opening a demo account on the platform and using the $100,000 virtual fund to test copy-trading as well.
By going to the demo section (below is an explanation video) you can see the best investors on the platform, who have distinguished themselves by their returns in recent months or because they have a large number of people copying them.
While still in the demo environment, you can choose to allocate some of your virtual money to replicate their moves. The eToro broker will automatically open and close the same positions on your account that other experts open and close on theirs.
This way you can invest in stocks without having to trade yourself, but not only that, you can also replicate this in commodities, forex or for automated cryptocurrency trading.
73% of retail investor accounts lose money
Crypto automated trading
Discorso analogo vale con i Bitcoin e le altre criptovalute. eToro ti permette di selezionare i migliori investitori filtrandoli per propensione al rischio, rendimenti o asset trattati e seguirli con un click.

There are many investors trading on eToro taking advantage of the volatility of cryptocurrencies, and by copying the best you could learn as well as try to make money. The platform replicates the automated trading of the expert you choose to follow, whatever cryptocurrency they are speculating on (Bitcoin, Ethereum, Ripple and other alternative altcoins).
If you want to trade Bitcoin automatically, only choose regulated platforms like eToro. Avoid software that promises you huge guaranteed returns – those don't exist for anyone. Also bear in mind that the broker in this case allows you to replicate the moves of other investors, which may well turn out to be wrong.
Automated forex trading
Want to trade forex automatically? Many experts use the eToro platform to trade currency pairs (EUR/USD, USD/GBP, EUR/YEN etc.) and speculate on percentage changes in exchange rates.
This is not a simple task, so at first you can rely on the experience of a real expert and trade automatically by copying their moves in the forex market.
Once you have learned the basics, you can stop following professional forex traders and start trading currency pairs on your own, switching from automated trading to the actual CFD platform.
MetaTrader 4 Automated Trading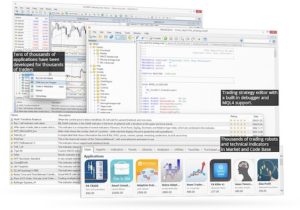 MetaTrader 4 (MT4) is software designed for online trading. The platform is free to download, 100% customisable and can be used with any type of trading account. All the major online brokers allow you to choose whether to trade on their web-based platform or the industry-standard MT4.
As part of the customisable options, MetaTrader 4 also offers you the ability to trade automatically using scripts, i.e. code that executes trades on the market according to pre-set strategies. You can find (or create) your own algorithm and start trading automatically on MetaTrader 4 by combining your choices with the software's calculations.
Compared to the platforms offered by major online brokers, however, trading on MetaTrader 4 is slightly more technical. In addition, you will need to master the MQL programming language to create your automatic trading robot (not exactly a piece of cake). You can start on a simpler web platform such as eToro and once you have developed some experience switch to this tool.
Automated trading with robo advisors
Another way to invest your money automatically is to have it supervised by a robo advisor, an algorithm run by an independent investment company that chooses where to optimally allocate your savings. In other words, it will do the trading for you, but with an alternative method.
The artificial intelligence works out an investment portfolio that suits your level of risk and your income and time objectives. It then proceeds to trade the stock market automatically. Once the financial instruments have been bought, however, the robo advisor is supported by an expert advisor who monitors the performance of the investment.
Robo advisors were created as an asset management tool. Unlike eToro or the MetaTrader 4 trading platform, you will not be able to intervene in person, but you will leave complete autonomy to the company.
Is automated trading right for you?
Automated trading is only a feature of some online platforms, not all. Very few reputable brokers offer solutions to replicate other traders' investments or follow an algorithm to trade the markets.
Moreover, not all traders may appreciate automated trading managed by a robot. First of all, you should try out automated trading in a demo environment. If it has convinced you, then you can move on to investing in money.
We appreciate eToro for its dual nature as an online broker and its copy trading algorithm, which allows you to automate some investments that only experts could make profitably.
Try eToro in demo mode, and then decide if automated trading is right for you. Otherwise, learn how to buy stocks or how to buy cryptocurrencies.
Automated online trading – FAQ
What is the best automatic trading software?
The best automatic online trading software is offered by eToro, because it allows you to copy other investors and manage your investment at any time. If you want to let everything run automatically you can also try a robo advisor such as Moneyfarm, or if you want to invent your own autotrading software you can download MetaTrader 4 and create your own script: read on to find out more.
Is there such a thing as free automatic robo-trading?
If you are a real expert in online trading and have good programming skills you can create a free automated trading robot in MetaTrader 4 (find out more in the article). Otherwise, take advantage of the free automated trading offered by eToro.
Can I trade Bitcoin automatically?
You can trade bitcoin and other cryptocurrencies automatically with a CFD robot. Be careful not to run into the many scams associated with automated bitcoin trading: choose the regulated eToro platform.